10 Great Thyroid Health Books to Read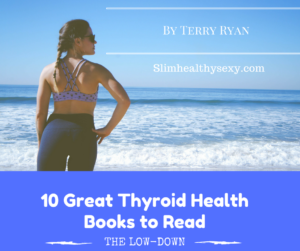 Here are 10 of my favorite thyroid health books that I recommend for everyone who has Graves disease, Hashimoto's thyroiditis, hypothyroidism, or low level hypothyroidism.



 

T

he Thyroid Connection: Why You Feel Tired, Brain-Fogged, and Overweight — and How to Get Your Life Back

by

The Thyroid Solution Diet by Ridha Arem, MD Has a diet program that helps you re- balance your hormones with food; learn how to control cravings; drop pounds with easy to follow eating and exercise plan.
Thyroid Hormone Breakthrough by Mary J Shomon, Overcoming Sexual and hormonal Problems at Every Age.
Thyroid Power: 10 Steps to Total Health by Richard l. Sames, MD and Karilee Halo Shames, RN, PHD. The amazing program to help millions conquer fatigue, depression, weight gain, and other chronic conditions.
Root Cause by Isabella Wentz, PharmD, FASCP with Marta Nowosadzka, MD. Lifestyles interventions discussed in this book aim to dismantle the vicious cycle piece by piece of thyroid disease. We start with the simplest modifications, by removing triggers, and follow with repairing the other broken systems to restore equilibrium, allowing the body to rebuild itself.
Why Do I Still Have Thyroid Symptoms? when My Lab Tests Are Normal: a Revolutionary Breakthrough in Understanding Hashimoto's Disease and Hypothyroidism by Dr. Datis Kharrazian- This book addresses the true causes of hypothyroidism in this country and how to manage them. The vast majority of hypothyroid cases are being treated inappropriately or misdiagnosed by the standard health care model. Through exhaustive research and clinical experience, Dr. Kharrazian has discovered what really causes hypothyroidism and how to manage it.
Medical Medium by Anthony William (Read my blog on the Medical Medium here) He has helped tens of thousands of people heal from ailments that have been misdiagnosed or ineffectively treated or that doctors can't resolve.
Overcoming Thyroid Problems by Jeffrey R. Garber, MD – A complete guide to understanding, treating, and living with thyroid disease, from Harvard Medical School.
The Physician Within You by Gladys Taylor McGarey, MD –  Dr. Gladys Taylor McGarey shares the guiding philosophy of her 50-year medical practice. The real-life stories of her patients dramatically illustrates the potential of Dr. McGarey's humane and wise approach to medical care and gives you an exhilarating glimpse of the future of medicine. This book tells the real stories of real people, their living experiences as they have enriched my life and as I have influenced theirs. This book is for all people, physicians and patients alike. There is no physician who, at one time or another, will not be a patient and each of us has within us that divine spark which we have chosen to call "the physician within."
Hashimoto's Thyroiditis: What is it? What causes it! How to manage it! by (yours truly) Terry Ryan-A book that explains what Hashimoto's is and how to treat that and other autoimmune diseases. My first book. Yes, I cured myself!

Here are the most recommended supplements for hypothyroid patients.
Thanks for reading! Knowledge is power.
Terry Ryan, Health Blogger