Florida Shrimp Piccata With Zucchini Strips
Yummy!  Here is the recipe:
Florida Shrimp Piccata With Zucchini Strips
2 Cloves of garlic minced
1 Pound of Pink Florida Gulf Shrimp (use whatever kind of shrimp you want)
1 Cup of chicken broth
1/4 Cup of white wine
Juice of one lemon plus the zest
2 Tablespoons of capers
2 Tablespoons of fresh parsley chopped
1/2 Stick of butter
1.5 Pounds of zucchini (that was 4 medium sized zucchini)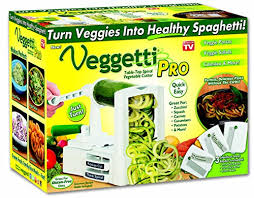 First, I bought a machine at Home Goods that cuts the zucchini into strips to substitute as noodles. I filled a bowl with the freshly cut zucchini ribbons. Just before serving, I sauteed  the noodles in butter for a few minutes just to warm them up.  To order the Veggetti Spiralizer click HERE!
My next step was to clean and de-shell  the shrimp. I also cut the tails off.
In a pan, I melted the butter and sauteed the garlic until soft. I added the broth and wine  and cooked it down for a few minutes, then I added the shrimp and lemon juice/zest and capers,cooked until the shrimps were firm. I then transfer on to a platter that had I had put the zucchini ribbons on. Sprinkled with the parsley and decorated with slices of lemon. Add salt and pepper to taste.
---
Tasty and low carb, but I have to admit. I would have preferred it to be served with rice.
Note: I used organic broth, and the shrimp is wild, Florida shrimp, not farmed.The parsley was from our herb garden, and so were the lemons.