I Minute Chocolate Mug Cake with Almond Flour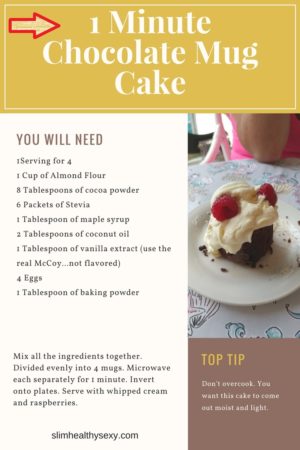 1 Minute Chocolate Mug Cake Made With Almond Flour
Serving for 4
1 Cup of Almond Flour
8 Tablespoons of cocoa powder
6 Packets of Stevia
1 Tablespoon of maple syrup
2 Tablespoons of coconut oil
1 Tablespoon of vanilla extract (use the real McCoy…not flavored)
4 Eggs
1 Tablespoon of baking powder
(Feel free to click on the links above to view the products. Any purchases made through this site helps us maintain the blog.)
Mix all the ingredients in a bowl. Don't over stir. I noticed my mix was a little dry so I added a tablespoon of cream. Depends on your preference. I wanted the cakes to be gooey.
---
Having Trouble Sticking to the Paleo Diet????  Click Here!
---
Spoon batter evenly into 4 separate mugs. Microwave each separately for only 1 minute. Turn mug upside down on plate. They pop out easily. I topped mine with homemade whipped cream (recipe below) and raspberries. The dinner guests ohhhhhed and ahhhhed.




Note: When I looked up this recipe online, their were many, many versions and all were recipes for serving of 1. One doesn't happen at my house. There are always a few faces at the dinner table. So, I simply quadrupled the recipe. Can you use white flour instead of the almond flour? Sure.
Can you substitute white sugar for Stevia? Yes. I was trying to make this cake on the "healthy" side.
Whipped Cream Recipe
1 Pint Container of Organic Cream
2 Tablespoons of maple syrup
1 Teaspoon of vanilla extract
Mix together in a bowl. I use a hand mixer to fluff the cream into peaks. Serve a dollop on top of the 1 Minute Chocolate Mug Cake. Yum!
Get rid of dangerous belly fat!!!Click Here!
Click here to see the handheld blender I used to whip the cream.