Summer Corn Salad by Terry Ryan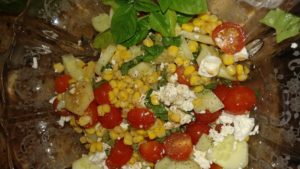 This is a easy and tasty summer salad.
Summer Corn Salad Recipe
1 Can of Corn (no added sugar)
2 Seedless English cucumbers
1 Pint of cherry tomatoes
1 Lime
1/4 Cup of Olive Oil
3 Leaves of fresh basil
2 Ounces of feta cheese
3 Tablespoons of Newman's Italian dressing
Drain the can of corn and put in bowl with sliced cucumbers, halved tomatoes, and feta cheese. Add lime juice, olive oil and Italian dressing. Slice basil into thin slices and mix into salad.
---
Click here for a free PDF HOLISTIC TREATMENT FOR EBV
---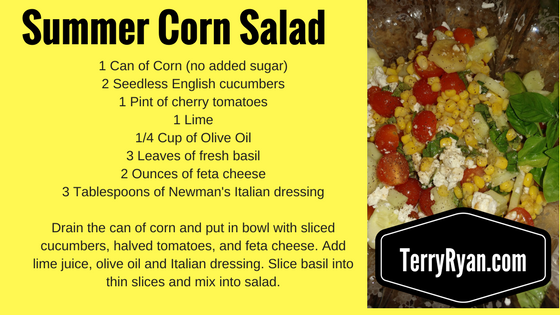 Note: My guests loved it but I thought it could have used a tablespoon of honey and chopped fresh avocado. Next time I may add these touches.
Did you know that B12 supplements support brain health and may stop Alzheimer disease. Click Here!
Here's the story. I have a house guest that has been staying with us for a few weeks. She  was transferred for work to Tampa, about an hour from my house, so she is staying with us while her husband sells their northern home and moves down.
Learn about the Diabetes Lies they have been telling you and how to holistically treat this disease! Click Here!
I want to point out that it was my guest that texted me this recipe late at night from her bedroom to mine. Hmmm.. I take that as a hint. She wants me to make this recipe. Okay, I'm game. And what a wonderful dish and EASY recipe. Great dish to bring to potlucks!
Here's a GREAT summer read!
Some summers will stay with you forever…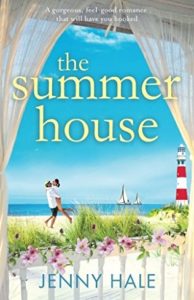 Callie Weaver and best friend Olivia Dixon have finally done it: put their life savings into the beach house they admired through childhood summers, on the dazzling white sand of North Carolina's Outer Banks. They're going to buff the salt from its windows, paint its sun-bleached sidings, and open it as a bed and breakfast.
Callie's too busy to think about her love life, but when she catches the attention of local heartthrob Luke Sullivan, his blue eyes and easy smile make it hard to say no. He's heir to his father's property empire, and the papers say he's just another playboy, but as they laugh in the ocean waves, Callie realizes there's more to this man than money and good looks.
Just when true happiness seems within reach, Callie and Olivia find a diary full of secrets… secrets that stretch across the island, and have the power to turn lives upside down. As Callie reads, she unravels a mystery that makes her heart drop through the floor.
Will Callie and Luke be pulled apart by the storm it unleashes, or can true love save them?
The Summer House is an absolutely gorgeous, heart-warming summer romance, about the importance of family, not keeping secrets, and learning how to open your heart.
'Captured my heart from the very first page and never let it go … Jenny is quickly becoming one of my favorite authors … One minute I'm giggling and the next there is a huge lump in my throat … My heart melted … I just wanted to reach in the pages and give them all hugs. I can't wait to read more by this wonderful author.' Color Me Read
'Absolutely fantastic, I loved this book and will definitely be remembering and revisiting it in future. Jenny Hale is a supremely accomplished and highly talented author. I can't wait to read more from her!' Splashes into Books
'A perfect romance read. Full of tension and heart-wrenching feelings … Oh I really did enjoy it … One to lift my mood and put a smile on my face and warmth in my heart … Full of charismatic characters, family love and bonds, honesty, small town loveliness and soul mates. Reading perfection!' 5/5 Pajama Book Girl
'This book is the epitome of everything I love about reading, about fiction and about romance. It was heart-warming, touching, upsetting, endearing, beautiful and one hundred other adjectives I could reel off… It's an absolute must-read for any romance fan.' Paris Baker's Book Nook
Good grief! Here's a way to lose body fat NOW While your pancreas keeps misfiring massive amounts of this "heavy hormone" forcing you to store belly fat at a faster rate Click Here!